Posted by Ullman's on 21st Apr 2022
When it comes to losing weight, a lot of people turn to detox teas. Now why is that? Using detox teas to lose weight makes sense, right? They're natural, you drink them all day, and they are meant to help eliminate toxins from your body. All good stuff! In light of this, Ullmans Health and Beauty wants to share with you some of the most effective detox teas on the market. Let's go over the best detox teas for weight loss in 2022.
Buddha Teas Detox Dharma Blend Tea
Cleaning doesn't have to be hard. Buddha Teas Detox Dharma Blend makes it easy to remove toxins naturally. Let us show you how our carefully selected ingredients work together to cleanse and restore your body. This list was directly provided by Buddha Teas.
Dandelion Root The liver's role, in part, is to detoxify the blood. The nutrients in dandelion root help cleanse, giving our organs the best chance at doing a top-notch job.
Sarsaparilla Containing a class of chemicals called saponins, which work within the veins and arteries to clean out waste, sarsaparilla helps the body flush out accumulated toxins.
Fennel Seed With this ingredient offering diuretic properties, the delicious flavor also provides extra help with flushing the system.
Licorice Root A versatile adaptogen, this ingredient has anti-inflammatory, expectorant, and mild laxative properties. Licorice root also contributes a delicious sweet essence.
Black Pepper Included to enhance the efficacy of the turmeric root.
Green Cardamon Provides antioxidant and diuretic properties.
Ginger Root This warming, spicy addition to the blend provides anti-inflammatory properties, and provides an effective aid for stomach ailments, most notably nausea.
Turmeric Root Curcumin's antioxidant activity can help it work as a detox agent in the body.
Prince of Peace Detox Tea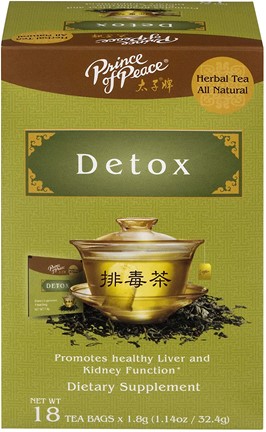 Prince of Peace® Detox Tea is made with high quality herbs including Senna, Ligustrum, and Cannabis. Drinking our tea on a regular basis will help you detox your body and promote healthy liver and kidney function. It was created b experts with traditional Chinese methods. Here are the ingredients:
Senna Leaf
Ligustrum Seed
Rose Hip Fruit
Cannabis Seed
Licorice Root
Not available for purchase online – only available at our tea store in Berkley, MI.
Traditional Medicinals Organic Weightless Tea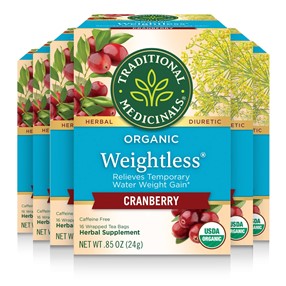 Traditional Medicinals Organic Weightless Tea includes high-quality diuretic herbs like fennel to relieve the discomfort of water retention, plus complementary herbs like red clover and cleavers. We add in an abundance of natural essential oils for a clean and light aroma.
Not available for purchase online – only available at our tea store in Berkley, MI.
DISCLAIMER: These statements have not been evaluated by the Food and Drug Administration (FDA). These products are not meant to diagnose' treat or cure any disease or medical condition. Please consult your doctor before starting any exercise or nutritional supplement program or before using these or any product during pregnancy or if you have a serious medical condition.